So You Want to Try Acupuncture?
Anthony Campbell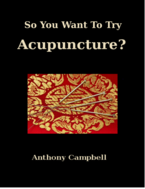 This book is written for anyone who is thinking of trying acupuncture but doesn't know much about it. It explains what acupuncture is, how it works, and what are the benefits and possible dangers. If you are still a bit hesitant about acupuncture and need some advice before making up your mind, this is the book for you. The author is a conventionally qualified physician who teaches acupuncture.
How to get it
Ebook versions are available in a variety of formats: Apple iBook, Barnes & Noble, and Kobo. Further details area available at my Smashwords page.

There is a Kindle version.

French translation A French translation by Irene Rallis is now available.
---
Contents
Preface
Chapter 1 Introduction
Chapter 2 Does It Really Work?
Chapter 3 What Does It Work For?
Chapter 4 Finding a Practitioner
Chapter 5 Your First Treatment
Chapter 6 Is It Safe?
Chapter 7 How Does It Work?
Chapter 8 The Traditional Version
Chapter 9 Other Types of Acupuncture
Glossary
Further Information